IoT Smart Space Research
Implementing Pervasive Computing in the Real World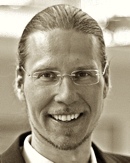 I am currently Research Director at Institut Mines Telecom (IMT) in Rennes, France. I am also leading the IoT Smart Space Orchestration Research Team at Technical University of Munich (TUM). My team currently consists of five PhD students and continuously about 20 Master and Bachelor students as well as several student assistants.
Our research focus is in autonomous management of the Internet of Things (IoT). In particular this includes data and service management with a focus on security.
We are also conducting applied teaching research in our numerous teaching activities.
You can find more details about
and other interesting topics in the menu on the left.
If you are interested in a topic, want to cooperate with me as researcher, student, or industry partner feel free to contact me. If you have any questions, comments or just want to get in touch please feel also free to leave a message.
Enjoy your visit!











Smart Space Orchestration Workshop 2.